Symmetrical All-Wheel Drive
Read More
SUBARU BOXER® engine
Learn More
Safety drives Subaru design
Learn More
Transmission
Learn More
Suspension
Learn More
Multimedia & Electronics
Learn More




Symmetrical All-Wheel Drive: Control the Road
You need balance and an even distribution of power for maximum traction, instead of the slip-then-grip alternative. Every Subaru comes standard with Symmetrical All-Wheel Drive for better stability, efficiency and a quicker response to slippery conditions.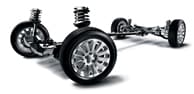 Symmetrical All-Wheel Drive has the engine mounted in-line with the drivetrain, helping provide a seamless transfer of power to all four wheels. Other AWD systems need additional drivetrain components to route the same power to the wheels, often using complex designs. More components tend to reduce vehicle efficiency and could add to higher maintenance costs.
The balanced design of Symmetrical All-Wheel Drive helps add control through uniform stability. With power being distributed to the wheels with the best traction, it helps you hold true to the path. Front-wheel drive vehicles generally understeer or push in a turn, while rear-wheel drive vehicles can often oversteer in a turn.
Symmetrical All-Wheel Drive sends power to all wheels simultaneously for maximum traction and acceleration. In slippery conditions, that power instinctively flows to the wheels with the best traction.
---
4-Wheel Independent Suspension
Every Subaru vehicle working with 4, 5, and 6-speed transmissions come with the enhanced balance of a 4-wheel independent suspension system, helping to smooth out those bumpy back roads and give taut responsiveness to handling the rigors of the urban jungle. So you'll always feel in touch with the road while hardly feeling it at all.
The smooth responsiveness of the double wishbone rear suspension helps to tame the harshest of road surfaces. It reacts to bumps without upsetting the composure of the vehicle and is fine-tuned to maintain sharp control, letting you take on the challenges of the road with calmness and confidence.
When it comes to handling whatever the road throws at you, every Subaru starts with a smooth ride that 4-wheel independent suspension brings. And when that road tends to be more gravel than pavement, both the Forester and Outback offer raised suspensions for added ground clearance, up to 8.9 inches to be exact. So no matter which trail you choose to travel, you will certainly enjoy a smoother ride.
---
SUBARU BOXER® Engine. Flat. Smooth. Smart.
Drawn from a century of intelligent performance, the horizontal layout of the SUBARU BOXER® engine combines balance with power and efficiency. And every Subaru comes with a SUBARU BOXER® engine.

Like the jabs of a boxer, where the engine got its name, the SUBARU BOXER
®
 layout allows the engine to be positioned in-line with the drivetrain for maximum transfer of power. Many other engines are transverse, or turned perpendicular, and can require additional drivetrain components to transfer power, reducing vehicle efficiency. 
The punch-counterpunch movements of the boxer's pistons cancel out each other for a smoother running engine without having to use additional components to counteract them as in many in-line and V-type engines.
With pistons moving horizontally, the SUBARU BOXER® engine has a flat, low profile, almost perfectly symmetrical, for a well-balanced vehicle. Its low profile can provide a lower center of gravity than other designs, helping provide quick handling response and flat, confident cornering.
---
Transmission
Lineartronic® CVT
It stands for Continuously Variable Transmission, and this innovative technology has been engineered to work seamlessly with the SUBARU BOXER® engine and Symmetrical All-Wheel Drive to help reduce fuel consumption. The stepless gear ratio allows the engine to run within its optimal power range for improved fuel economy, while its lightweight, compact design helps the vehicle stay as agile as it can be.
In Automatic Mode, it adjusts instantly to match your acceleration, eliminating the need to shift and preserving the vehicle's momentum often lost with conventional automatic transmissions. In 6-Speed Manual Mode, paddle shifters are mounted for fingertip control, giving you the power to select the gear ratio that best suits your driving situation. The result is a sharper and sportier driving experience.