The 2022 Subaru Love Promise Community Commitment Award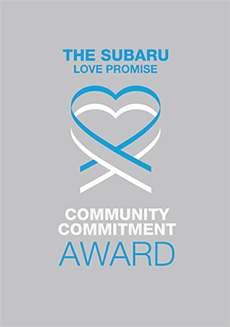 We've been nationally recognized for our dedication to our community and the Subaru Love Promise.
We're honored to receive the 2022 Subaru Love Promise Community Commitment Award. This award nationally recognizes Subaru retailers who are making the world a better place while demonstrating an outstanding commitment to supporting passions and causes in local communities. These efforts are focused in important areas such as the environment, community, health, education, and pets.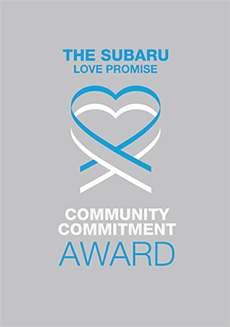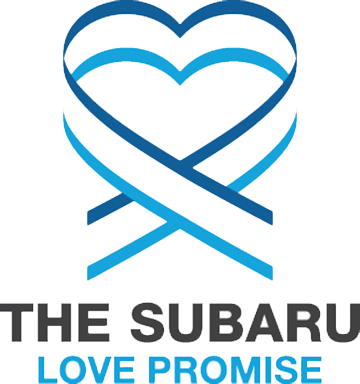 What is the Subaru Love Promise?
Subaru and our retailers believe in making the world a better place and the Subaru Love Promise is our vision of respecting all people. This is our commitment to show love and respect to our customers and to work to make a positive impact in the world.
How is Glassman Subaru dedicated locally to the Love Promise?
Our Love Promise can be seen in various partnerships with local charities and non-profits. We're grateful for the opportunity, not only to be a part of our community, but to serve it as well.
Love Promise Stories from Glassman Subaru
Subaru and Glassman Subaru believe in making a positive impact on the communities in which we live and work. We uphold that belief through our Love Promise Community Commitment. Every month, we select inspiring stories from customers and partners from around our area who strive to support our collective commitment and feature them here
Thank you, Glassman! - Terry Y
With my AdoptAClassroom.org donation from Glassman Subaru, I was able to purchase six stop motion animation cameras for students at Adams Middle School. Students will be using these to create short animations and do other really fun time lapse videos and projects. For my students, especially those who like to draw, this a chance to take on writing (which often is tough) and be able craft their own stories and turn them into short films. We will also be using this in our Drama and Media Arts club. As a matter of fact, several students who would not have tried out this club signed up after they heard about the cameras. We look forward to showing you some movies later this year! #SubaruLovesLearning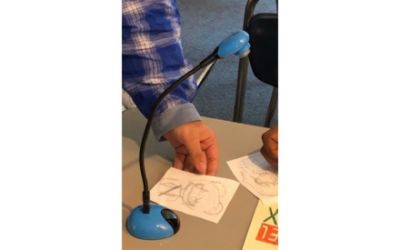 ---
Global Impact from the Heart of Southfield, MI - Marc C
For nearly a decade, Glassman Subaru has remained a vital partner of Kids Kicking Cancer, helping to raise over $100,000 during that time! Headquartered in Southfield, Michigan, Kids Kicking Cancer is a non-profit organization that offers evidence-based martial arts therapy to children suffering from cancer and other painful pediatric illnesses. Despite the pandemic, Kids Kicking Cancer has made a commitment to empower one million children to lower their pain and stress. Classes are delivered in person and virtually throughout hospitals, medical facilities, outpatient centers, home visits and schools across the United States and globally. This work and our ability to transition to virtual programming in 2020 was made possible through the generosity of individual donors, foundations, and corporate partners like Glassman Subaru. Thank you! Meet Vivian: The children in our Heroes Circle Pediatric Patient Program continue to amaze us each and every day. Vivian was diagnosed with a brain tumor at six weeks old. Multiple surgeries and treatments left her nonverbal, with damaged motor skills, a tracheotomy for breathing, and a feeding tube in her stomach. Despite her challenges and the 24/7 care she requires, Vivian does not let her disabilities slow her down. When asked what her favorite part of class is, she responds "My breathing. Thumbs up!" She has become a Power Breathing Warrior. It helps her to slow down, and significantly reduce her pain and discomfort. She taught her entire class how to power breathe earlier this year over Zoom. "We absolutely love Kids Kicking Cancer," Vivian's Mom Beth said. "The overall goal of teaching my daughter martial arts (which is great physical therapy), while simultaneously teaching her relaxation techniques is such a wonderful thing. She uses the deep breathing techniques during medical procedures and other times of increased anxiety. The ability to have lessons in our home (even virtually during the pandemic) has been a lifesaver, literally."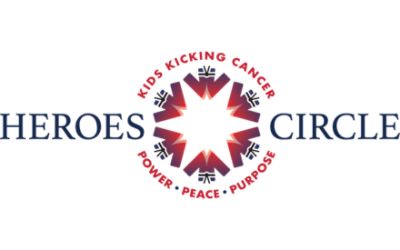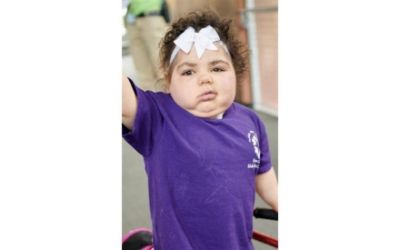 ---
Subaru Loves Pets - Gail M
Dear Glassman Subaru, Partnerships with community members such as yourself are vital to non profit organizations in meeting goals and making progress toward mission. Your long standing commitment to helping shelter dogs is commendable and appreciated. We at Almost Home Animal Rescue are elated for the financial resources that you donated to us through the Subaru Loves Pets Month in April. Your generous contribution will allow us to save the lives of many fur babies through foster care and adoption programs. Thank you again for your commitment and for assisting us in this very important work. Regards,Gail Montgomery and Lauren Anchill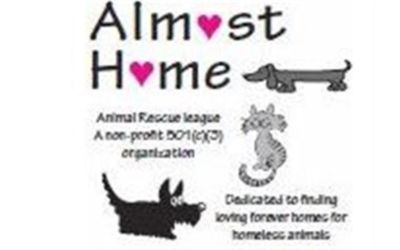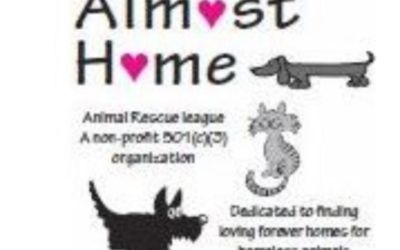 ---
Thank you, Glassman Subaru! - Erin E
The students and staff at Adams Middle School in Westland would like to thank Glassman Subaru for their generous donation of $3,000! Six teachers were surprised with a classroom makeover and were each able to spend $500 in their classrooms to benefit our students. Our classrooms are now outfitted with flexible seating for students, materials to use for projects, new books, new technology and so much more. We are beyond grateful for this donation! #SubaruLovesLearning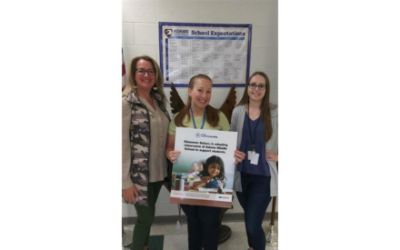 ---
A Foster Fail Tail.......And Fiona Makes Three! - Martha L
We rescued two dogs from Almost Home 11 and 7 years ago, so I have followed their rescue stories and supported their organization over the years. In March when the quarantine was put into place I was asked by a friend who volunteered for them to foster a sweet little beagle mix. It was a perfect opportunity to get involved on another level, so of course we said yes. Our boys are grown and moved out and our daughter is 18 and a senior in high school. That led us down a path of fostering and adopting out 6 more sweet puppies over the coming months. Our 7th foster was the little copper colored girl in the front of the picture (Shelby, now Fiona). She was also our first foster fail. In addition to fostering we got involved in the transports that were coming from the Artemis Project rescue in Arkansas…so MANY dogs that were in horrific situations coming to us for placement into a better life. The puppies are bouncy and eager to please, but the older dogs are terrified and have seen very little love from humans before they were taken in by the Artemis Project. Each dog you bring into your home holds a special little part in your heart. As a foster you know that your role is to nurse these sweet souls back to health, to build their trust in humans, to show them what love is and to ultimately find them their perfect "furever" home. We cry every time one leaves our arms, but they are happy tears. And then there's that one that comes along that just fits…it fits your life and it fills you heart and you know it was meant to be yours. That one for us was Fiona. She is our little hound mix. She is smart and happy and kind. Being a part of Almost Home, as a volunteer, foster and adopter has been the greatest gift to us this year. We have rescued dogs, but in may ways they have rescued us.
---
Glassman and Children's Hospital of MIchigan - george g
Glassman Subaru donates personal protective equipment to Children's Hospital of Michigan during emergency declaration caused by the COVID-19 pandemic.
---
Glassman Subaru Shares the Love - george g
Thanks to the generosity of George Glassman, Michael Glassman, and Glassman Subaru, Kids Kicking Cancer has been chosen for the 6th year as the 2020 Subaru Share The Love Hometown Charity! Through this initiative, Kids Kicking Cancer will receive $300 for every Subaru bought or leased at Glassman Subaru during the upcoming Share the Love Campaign! Last year's Subaru Share the Love campaign brought in over $37,000 to support the children and families of Kids Kicking Cancer, bringing the total raised since being first chosen in 2015 to over $57,000! In addition to the Glassman family's generosity through Subaru, they and Glassman Automotive have been one of the Presenting Sponsors of our Cowboys Kicking Cancer Event. This event allows for a day on the farm for hundreds of Kids Kicking Cancer children and their families with horses, hayrides, a cookout lunch, s'mores, music, crafts and more! It is a day our families look forward to all year long. Although this year's event was postponed due to Covid-19, we look forward to future events thanks to the support of George, Michael, and Glassman Automotive.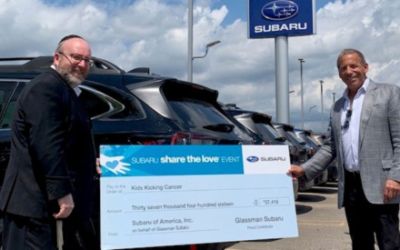 ---
Glassman Subaru Grants Books - abby g
For the past years, Glassman Subaru has supported the fourth-grade with a variety of books and schools supplies. This year, Glassman Subaru donated West Hills Middle Schools 150 high interest, nonfiction STEM books.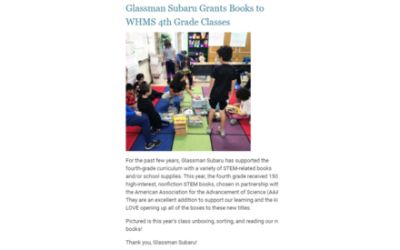 ---
Glassman Subaru brings light to cancer patients - Jamie R
On July 9, 2019 the Michigan Chapter of The Leukemia & Lymphoma Society and Glassman Subaru had the pleasure of delivering 80 blankets and 50 arts & craft kits to Karmanos Cancer Institute in Detroit as part of the Subaru Loves To Care program. These comforting gifts were accompanied by personalized messages of hope written by the customers and staff of Glassman Subaru.This incredible act of generosity was warmly received by the Karmanos Cancer Institute staff, who indicated that their patients look forward to receiving these comforting gifts each year. LLS is proud to partner with Subaru to spread hope, love and warmth to those fighting cancer, across the country and right here in the Metropolitan Detroit community.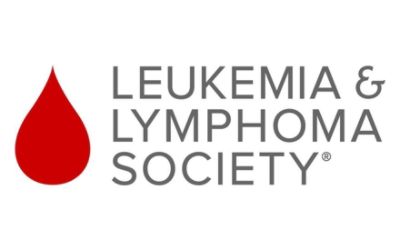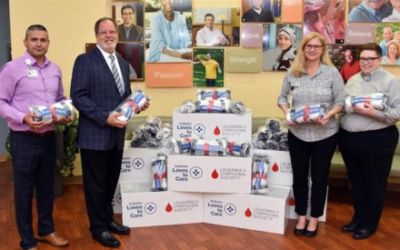 ---
Glassman Share the Love-Kids Kicking Cancer - Glassman S
Glassman Subaru has gone above and beyond for Kids Kicking Cancer in numerous ways. One example is by choosing Kids Kicking Cancer to be the local beneficiary of their Share the Love Campaign for the third year! This year's campaign raised $13,128 for the children and families of Kids Kicking Cancer! As a result of the Glassman families commitment to their community, this donation helps to run our daily martial arts therapy classes for children with cancer, sickle cell and other life-altering conditions, includes their siblings in all of our programming, and supports our martial artists working with the children in the hospital and clinic settings. Without supporters such as Glassman Subaru, Kids Kicking Cancer could not continue to provide our cost-free empowerment programming for children and families in the Metro Detroit community. Thank you Glassman Subaru from the children, families, and staff of Kids Kicking Cancer for your generosity and dedication! Power Peace Purpose.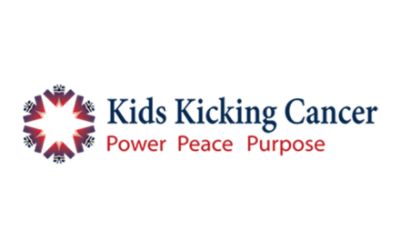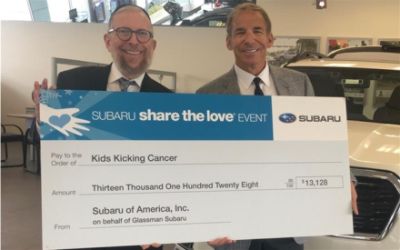 ---