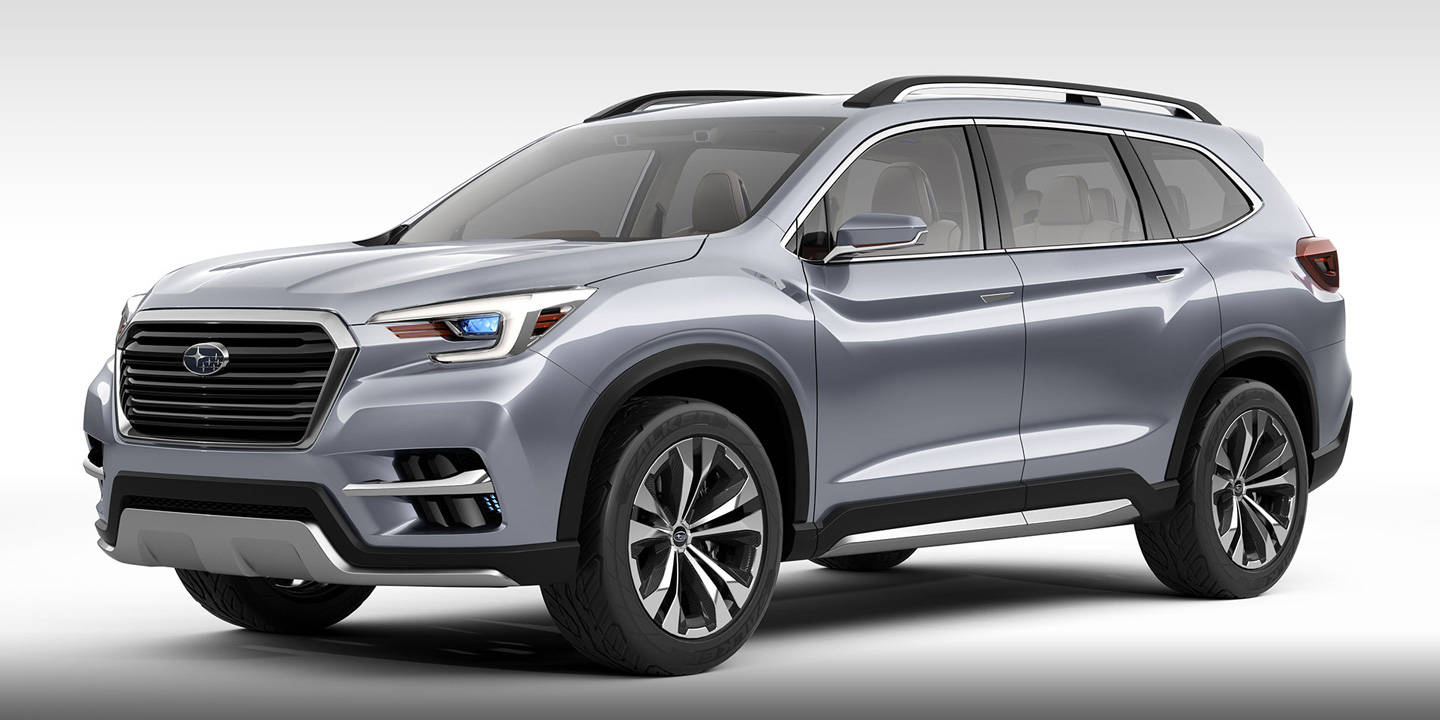 Subaru Ascent SUV Concept near Detroit MI
Subaru Ascent SUV Concept Overview
In April of 2017, the Subaru Ascent SUV Concept made its debut at the New York International Auto Show, taking spectators and car enthusiasts by delight. This 3-row SUV design concept is riddled with a lot of new features, including a powerful brand-new turbocharged direct injection boxer engine. It follows Subaru's theme of "Dynamic x Solid" inside and out, making this SUV one of the hottest concepts to come out in recent years. If you are interested in the vehicle and want to search for a Subaru Ascent SUV Concept near Detroit MI, give Glassman Subaru a call or stop by during our business hours. Glassman Subaru is serving Detroit Southfield Ferndale Michigan and is excited to present the all-new Subaru to you.
Interior
The interior design on the all-new Subaru Ascent SUV Concept makes just as bold of a statement as its exterior. The interior holds a lot of fantastic high-tech and safety features and is every bit as comfortable and spacious as you would expect from an SUV designed by Subaru. The seats are upholstered in gorgeous and very expensive-looking brown and white leather, and there are three infotainment screens - one for each row of seating. Digital aspects aside, it appears that the Ascent's interior is an XXL version of the brand new Impreza's stunning interior design. Under each of the infotainment screens is a covered cubby hole, and there is plenty of storage space to be found throughout the cabin. Additionally, there are two cupholders nestled between the two front seats, and the center console is impressively huge. In total, you can fit a driver and six passengers in the vehicle. The second-row bucket seats and third-row bench seats are all incredibly comfortable and leave enough head, shoulder, and legroom, even for adults.
Exterior
If the Ascent's interior doesn't make you want to seek out a Subaru Ascent SUV Concept near Detroit MI, then its bold and luxurious exterior just might. It follows the Viziv-7 concept but is scaled down in terms of its dimensions. The Ascent has a wheelbase of 117.0 inches, which is a 0.7-inch decrease from the Viziv-7. This makes its overall length 198.8 inches instead of the Viziv-7's 204.7 inches. These dimensions are extremely similar to the VW Atlas, so you can expect these dimensions to carry over into the actual lineup. Aside from its side, fans of Subaru vehicles will notice that the Ascent has incredibly dynamic curvatures along its exterior body. The headlights are slender and boxy, allowing the Ascent's massive grille to dominate the front fascia, with Subaru's signature logo slapped in bright blue onto the center of the grille.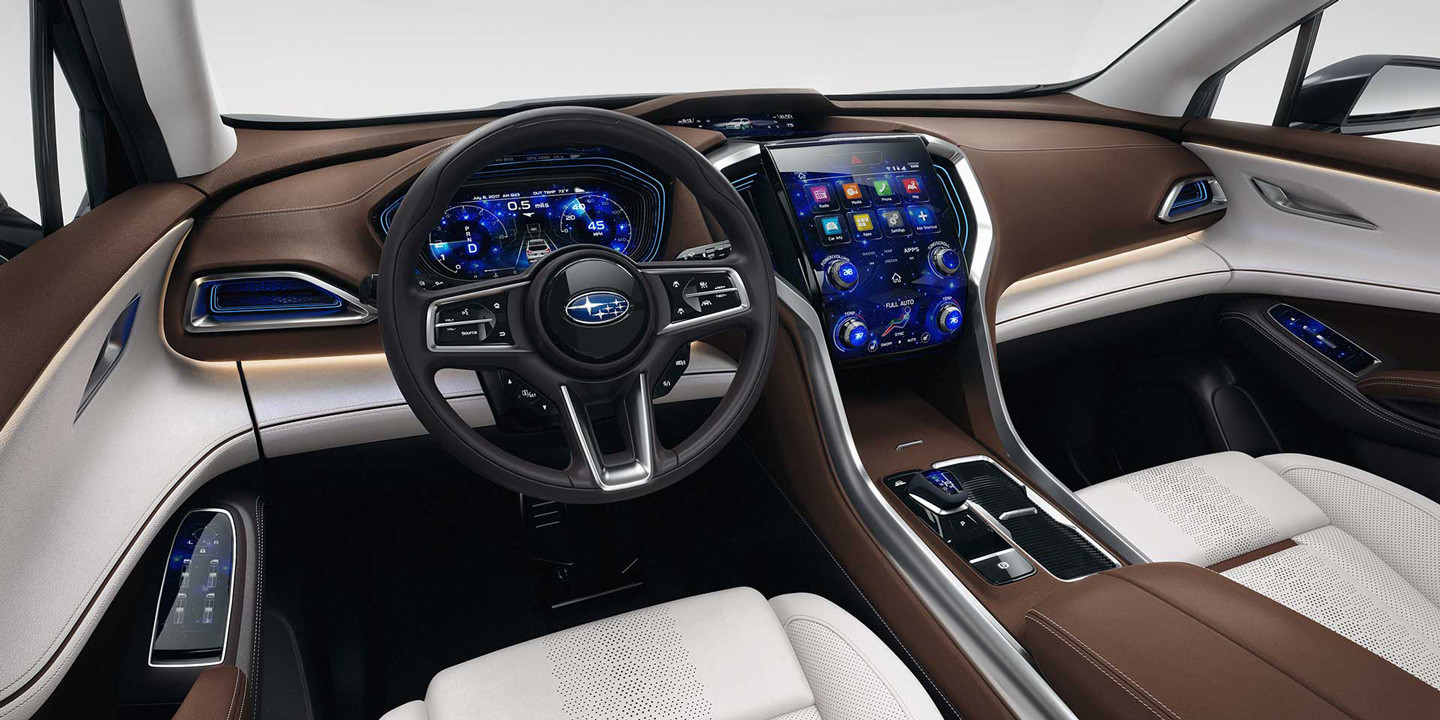 Mechanical
Still unsure of whether to contact our dealership, which is serving Detroit Southfield Ferndale Michigan? You might make up your mind to do so after you take a gander at the Ascent's mechanical features. One of the most eye-catching mechanical features is the vehicle's massive 21-inch tires. Since the vehicle will be based on Subaru's brand new global platform, you can expect the Ascent to have a very low center of gravity, which helps to reduce the amount of body roll and makes steering and handling seem secure and fluid on any type of road. The company is also now mounting the rear anti-roll directly onto the body instead of the subframe, which reduces the body roll by 50% of what is currently experienced on Subaru's vehicles. You can also expect improved noise/vibration/harshness (NVH) performance and straight-line stability from the Ascent.
Powertrain
The Ascent's powertrain, as is the case with almost all of Subaru's other vehicles, will come equipped with standard all-wheel drive, which is a huge bonus for those of us who have to drive in snowy and icy Michigan winters. The Ascent will also come with an all-new turbocharged 2.4-L flat-four engine with direct injection. Details are not yet available, but you can expect the Ascent's boxer engine to equal, if not surpass, those found on its competitors, which tend to generate up to somewhere around 250 hp. As far as the transmission goes, you can expect that the company will top the Ascent's powertrain out with a continuously variable automatic transmission (CVT).
Safety
Safety has always been a top priority for this automaker. In fact, Subaru's new global platform places an increased emphasis on vehicular safety. Not only will there be a plethora of standard and optional safety features to be found on the Ascent, but the global platform ensures a much safer architectural design, which is going to be highly competitive with other top-rated vehicles. The Ascent will likely be composed of very high-strength steel and will have a much better impact-energy absorption rate than current Subarus.
If you are interested in finding a Subaru Ascent SUV Concept near Detroit MI, then give Glassman Subaru a call or stop on by today to speak with one of our friendly sales associates. We are serving Detroit Southfield Ferndale Michigan and cannot wait to show you this awesome concept SUV. You will step into the future of driving when you get behind the wheel of the Ascent.