2021 Subaru Ascent vs 2021 Honda Pilot near Detroit
View Inventory

Subaru has been enjoying great success with its range of car-based crossovers with station wagon appeal. The Ascent is a three-row crossover and the largest vehicle in the Subaru portfolio. It includes all-wheel drive standard, boasts seating for either eight or seven and is loaded with amenities and technologies. The 2021 Subaru Ascent, which is now available at our local Subaru dealership Detroit Southfield Warren Dearborn Michigan, arrives with even more standard equipment, including automatic adaptive headlamps and automatic high beam control. A chief competitor to the Ascent is the Pilot from Honda. With the 2021 Honda Pilot, Honda has introduced a Special Edition and made its nine-speed automatic transmission. With those changes in mind, let us compare the 2021 Subaru Ascent vs 2021 Honda Pilot near Detroit and see how these two new models measure up against one another.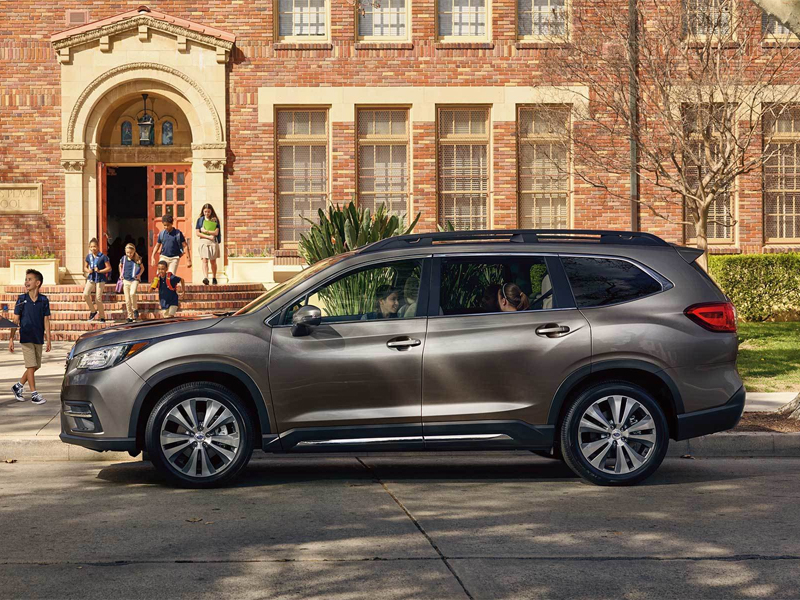 Exterior - Subaru Dealer serving Detroit MI
The 2021 Subaru Ascent is available in four trims: base Ascent, Premium, Limited and Touring. The 2021 Honda Pilot, on the other hand, is sold in seven trims: LX, EX, EX-L, SE, Touring, Elite and Black Edition. The Ascent wheelbase measures 113.8 inches, and the minimum ground clearance is 8.7 inches. The length, width and height are 196.8, 76.0 and 64.4 inches, respectively. The Pilot is a tad shorter than the Ascent but wider and taller. The Pilot wheelbase measures 111.0 inches, and the minimum ground clearance is 7.3 inches. The length, width and height are 196.5, 78.6 and 70.6 inches, respectively. If AWD is important to you because of your local weather, take note of the ground clearance difference.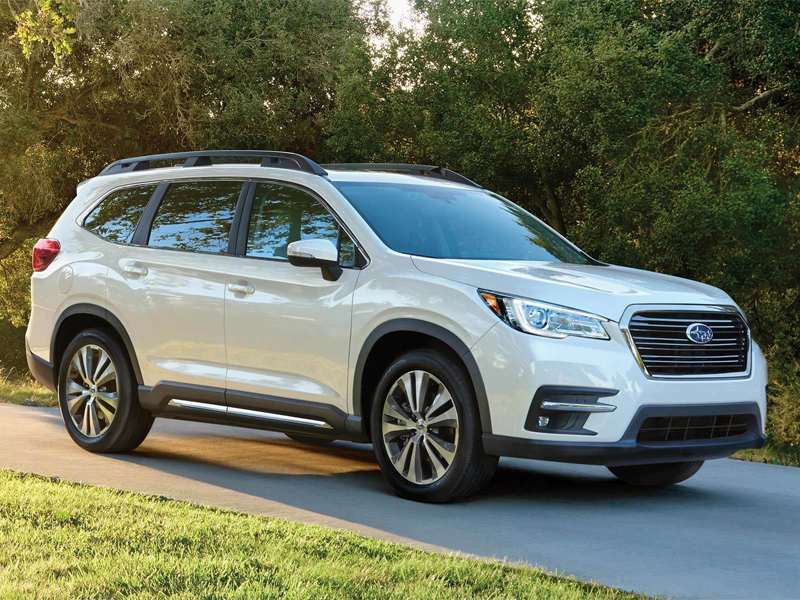 The 2021 Subaru Ascent vs 2021 Honda Pilot comparison is quite similar when it comes to seating. Both can seat eight if you opt for a second-row bench and seven if you opt for second-row bucket seats. The overall passenger volume is more than 150 cubic feet in both cases. Front and second-row legroom are comparable, but the 2021 Subaru Ascent provides notably more third-row legroom-36.3 vs 31.9. You may expect that missing space to reveal itself in the cargo comparison, but it does not. The Ascent affords 17.6 cubic feet of dedicated area and 86.0 cubic feet of total cargo volume whereas the Pilot affords 16.0 cubes of reserved space and 82.1 cubes of overall cargo capacity.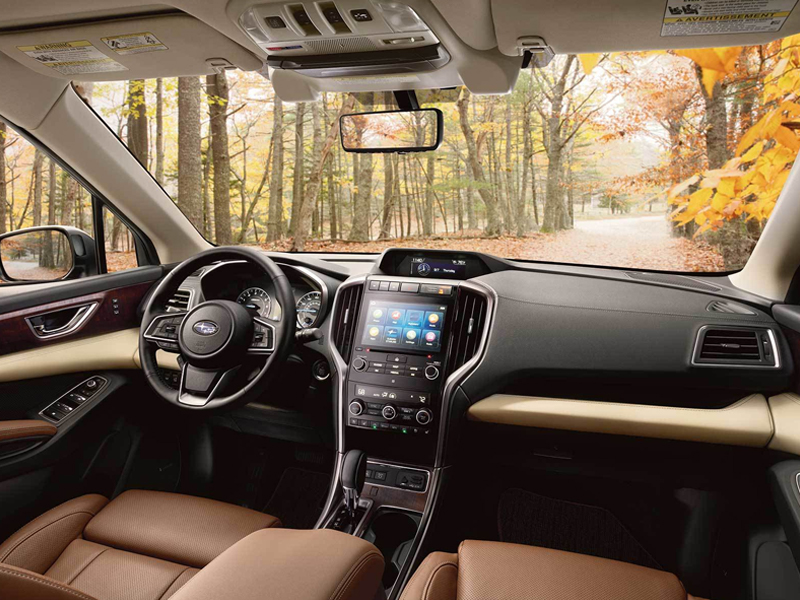 Subaru Ascent Mechanical specs
All Ascent models are all-wheel drive. Most 2021 Honda Pilot models are front-wheel drive standard, and all-wheel drive is optional. The exceptions are the Elite and Black Edition trim levels. Powertrain is an aspect of comparing the 2021 Subaru Ascent vs 2021 Honda Pilot near Detroit that gets a lot of attention, but these models are similar in terms of performance. The Ascent has a 2.4-liter turbocharged four-cylinder mated to a continuously variable transmission, and it makes 260 horsepower and 277 pound-feet of torque. Drivers interesting in towing should opt for at least the Premium trim, which includes the heavy-duty cooling that increase max towing from 2,000 to 5,000 pounds. The Pilot has a 3.5-liter V6 married to a nine-speed automatic, and it makes 280 hp and 262 lb.-ft. With the Pilot, max towing is 3,500 pounds with FWD models and 5,000 with AWD models.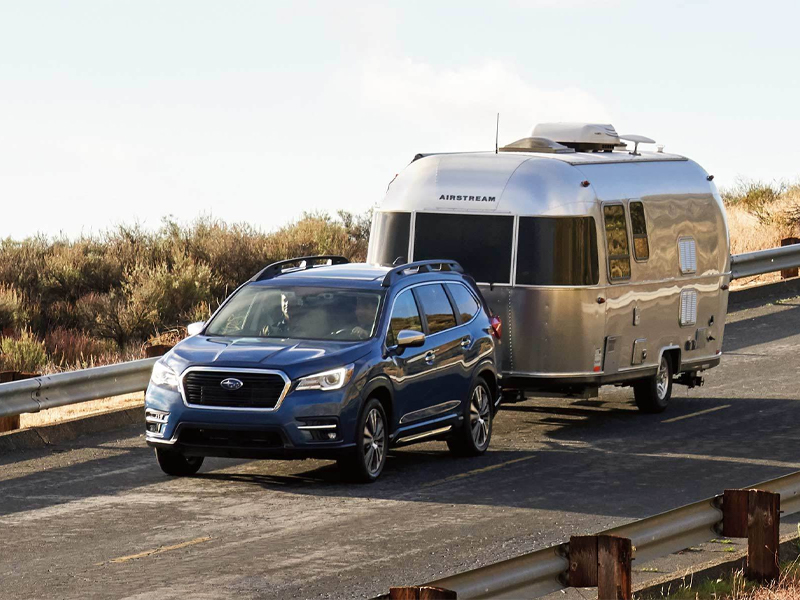 Technology - 2021 Subaru Ascent dealer
The base Ascent has a 6.5-inch touchscreen, and the Premium and up have an 8-inch touchscreen. The base Pilot gets a 5.0-inch touchscreen, but many advanced features are missing. For those, you will have to step up to the EX, which adds an 8-inch display and those features. Drivers in Detroit Southfield Warren Dearborn Michigan will be please to learn that neither automaker skimps on the driver aids. Adaptive cruise control, blind-spot monitoring and more are all included standard or available.
If you have any question concerning the 2021 Subaru Ascent vs 2021 Honda Pilot comparison, we encourage you to call us or reach out to us online. Not only can we answer questions and provide quotes via email and text, we can notify you when new deals and options are available. Drivers in the Greater Detroit Southfield Warren Dearborn Michigan area who want to test-drive the new Ascent can visit our location during our standard business hours. We can schedule an appointment if you prefer, but doing so is never required. If you would like to shop with us online, be sure to click or tap the live chat button to ask questions, request custom quotes and much more!