2019 Subaru Forester vs 2019 Mazda CX-5 - Southfield MI
    View Inventory   

Vehicle Overview
There's always a place for anyone or any item in a compact crossover thanks to their versatile seating and storage spaces. These handy vehicles also win drivers over with their ability to tackle harsh road conditions. Ready to prove itself at Glassman Subaru, the 2019 Subaru Forester stands out in these categories compared to more typical crossovers like the 2019 Mazda CX-5. In Southfield Michigan, this vehicle stands out in a few other categories as well.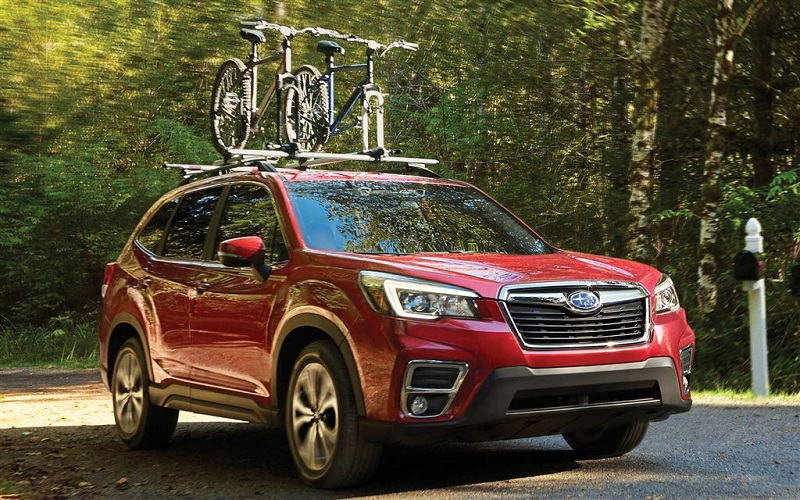 Exterior - 2019 Subaru Forester
The 111.9 cubic feet of passenger volume in the 2019 Forester at Glassman Subaru provides a nice head start over the 103.6 cubic feet in the Mazda CX-5 for giving occupants leeway in all directions. Getting in and out is easy when there's 41.2 inches above and 43.3 inches below in the front row instead of the 39.7 inches and 41 inches respectively found in the CX-5. While second tier legroom is similar, folks in back also enjoy 39.6 inches of overhead clearance in the Forester rather than the 39 inches permitted by the 2019 CX-5. This alone makes the Forester the more attractive choice when it's 2019 Subaru Forester vs 2019 Mazda CX-5, but keep in mind that side clearances are just as important with everything from handling the steering wheel to reaching for the glove compartment requiring latitude for arms.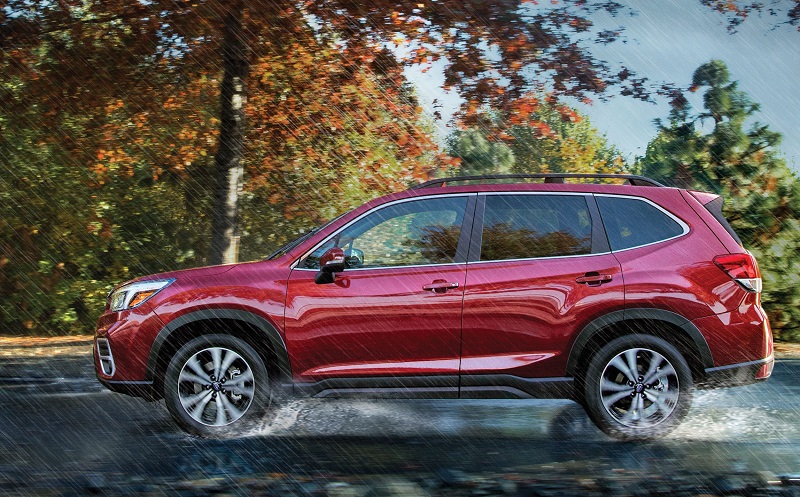 Interior - 2019 Subaru Forester in Southfield MI
Originally, crossovers were designed for heading off-road, and the modern 2019 Subaru Forester shows a continued commitment to this ability in its very design. It offers 8.7 inches of open space below its chassis while the 2019 Mazda CX-5 restricts itself to 7.5 inches. Even without gravel paths to contend with, a feature like this is more than helpful if there's debris in the way, standing water across the road, or if some particularly deep potholes come along. The same can be said for all-wheel drive that transfers power to those wheels with the best road contact. But the Forester offers the option of adapting this feature to off-road conditions with the turn of a center console knob. While a CX-5 can be ordered with all-wheel drive, it comes standard on all Subaru Foresters in Southfield Michigan.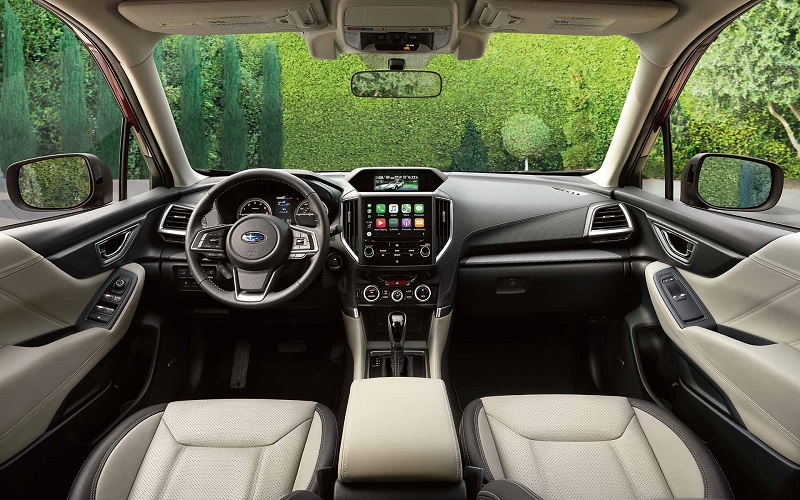 Mechanical - Subaru Forester specs in Southfield
You'd expect compact crossovers to get strong fuel economy, and the 2019 Subaru Forester won't disappoint you. Its Boxer engine, a 2.5-liter flat-4 machine, is formulated to supply the Forester available at Glassman Subaru with capable strength and minimal gas requirements. Linked to a continuously variable transmission or CVT, it sends 182 horsepower to all 4 wheels for a savings of 26 mpg city and 33 mpg highway. By comparison, the 2019 Mazda CX-5 starts out with a regular 2.5-liter inline-4 block to produce a nearly identical 187 horsepower with greater fuel demands. Even without all-wheel drive, it's held to 25 mpg city and 31 mpg highway when coupled with a 6-speed automatic transmission. Throwing in all-wheel drive pulls both of these numbers down another mile per gallon. Taking the CX-5 alternative of a 2.5-liter turbocharged-4 gives drivers 227 horsepower, but fuel efficiency is knocked down to 22 mpg city and 27 mpg highway. Especially at higher speeds, both Mazda choices are noticeably louder than the Forester too.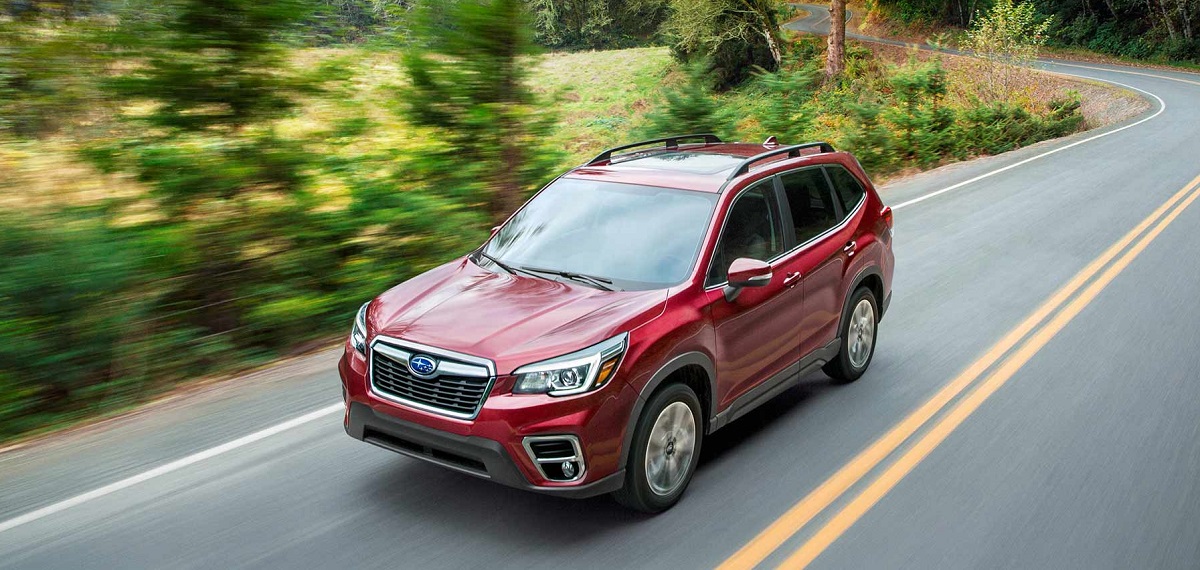 Safety - 2019 Subaru Forester dealer
Looking at the basic stats, both the 2019 Forester and CX-5 offer a very safe ride. In tests from the NHTSA and the IIHS, their scores were identical and impressive. Forward and side collisions along with roof strength tests performed by the IIHS earned the maximum ranking of Good. In fact, each vehicle was declared a Top Safety Pick+ winner. The NHTSA also gave them 5 stars overall. On top of this, both possess airbags, traction and stability control, a rearview camera, tire pressure monitoring, and antilock brakes. Technology also enhances the security of the Forester and CX-5 in the form of collision detection with automated braking, blind spot monitoring, rear cross-traffic monitoring, and lane holding. In this area of safety, though, things differ a bit when the 2019 Subaru Forester vs 2019 Mazda CX-5. Subaru's EyeSight safety suite, applied to all 2019 Forester models in Southfield Michigan, goes further than its Mazda counterpart by including automatic braking at any speed while the CX-5 braking system only works at lower speeds on the Sport model with higher speed braking requiring the purchase of another model. One final safety advantage of the Subaru Forester comes from its Boxer engine sitting low in the engine compartment.