View Inventory

Vehicle Overview
The all new 2019 Subaru Crosstrek Hybrid is a masterclass SUV that stands above all comparable cars in its class. Well designed, both inside and out, packed with technology, and loaded with the best safety features on the market, Subaru delivered the goods in their latest hybrid-electric offering. You'll save money through a combination of the energy efficiency produced from the electric engine and the fuel economy of the gas engine. Come to your favorite Southfield Subaru dealership today and test drive this stunning ride in Southfield Michigan.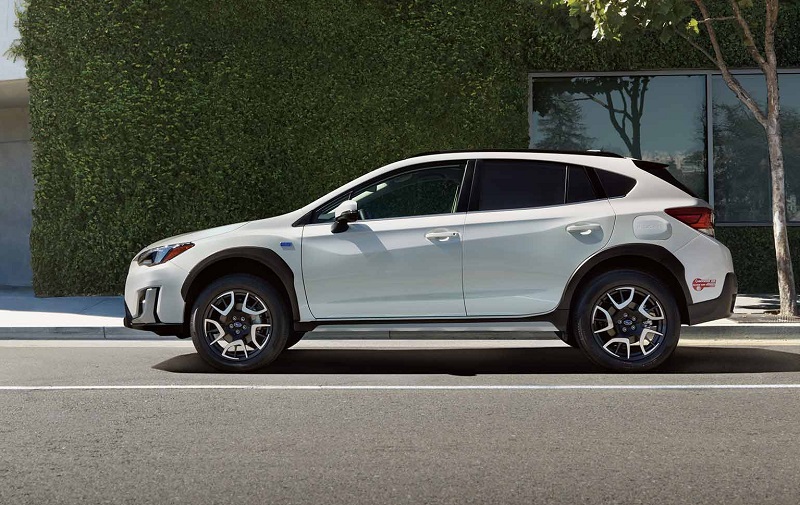 Exterior - 2019 Subaru Crosstrek Hybrid
The beautiful exterior design of the hybrid-electric SUV from Subaru is sure to turn heads on the road. Beyond its sleek design highlighted by the light and shapely hood made purely from aluminum, the extended roofline that has brake lights built in gives this car a unique design all its own. The roof rails are also fully integrated. On the feet, Subaru offers you beautiful 17-inch alloy wheels as a standard feature. If you opt for the Touring trim, you'll get automatic headlights. On the Sport option, the headlights are directional, and you'll also get a power sunroof. The side mirrors on this SUV are also power locked and power adjusted. The rear seats that come in a 60/40 ratio can be fully folded down as well. In short, this is a beautiful car that should be considered for its design alone. For a closer look, come on down to Glassman Subaru, your favorite Southfield Subaru dealership.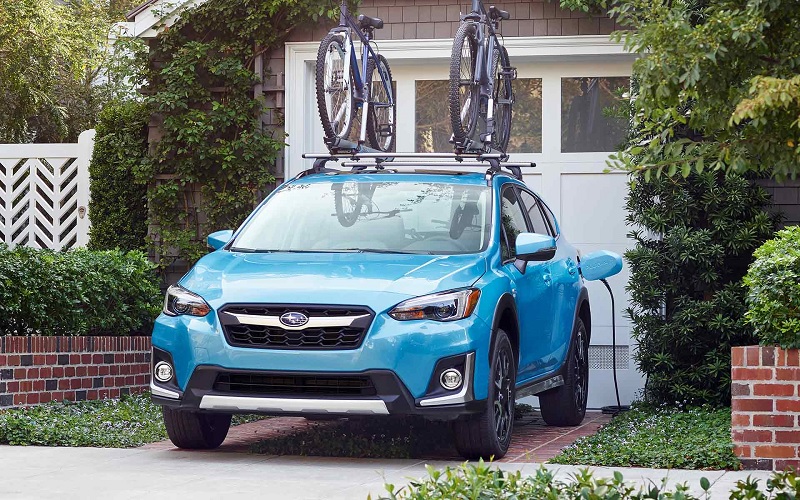 Interior - 2019 Subaru Crosstrek Hybrid
The interior on this beautiful and functional hybrid SUV is not lacking in any department. Every trim comes standard with a 6.5 touchscreen infotainment display that is compatible with both Apple CarPlay and Android Auto. One of the best elements of this new display is the information it displays related to your fuel usage and battery power. The carpeting inside the vehicle is fully protected, so you don't have to worry about cleaning up nasty spills. The rear doors also feature tinted glass, which should be much appreciated for the security and sun protection. The Sport trim comes with an upgraded 8-inch display, two USB ports, a radio with both CD and SiruisXM capability. On the Limited model, you'll find a stunning 8 speaker sound system, GPS navigation, automatic climate control, and leather seating.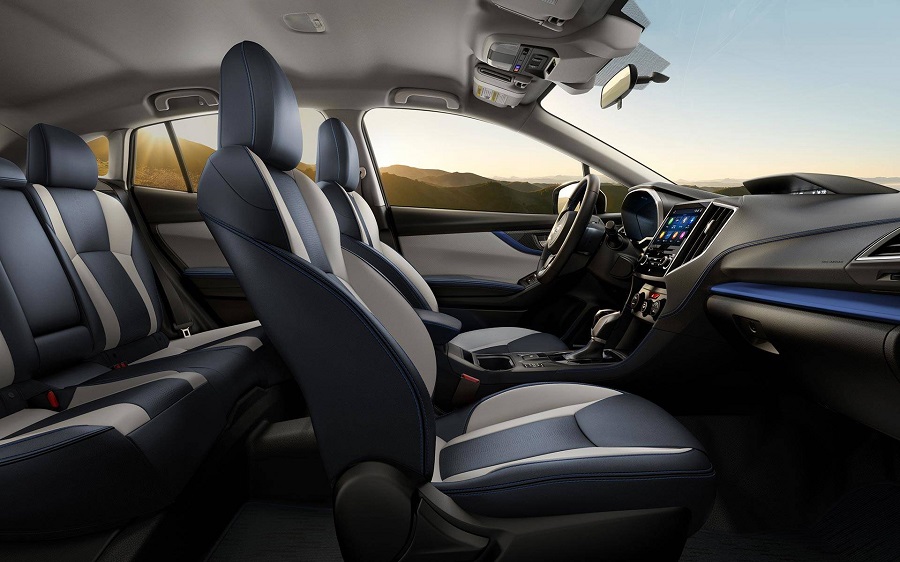 Mechanical - Subaru Crosstrek Hybrid specs in Southfield MI
Being a hybrid vehicle, the battery is of the utmost importance to most buyers. The lithium ion battery is 8.8 kwh and 25.0 Ah. It saves electricity as you drive, before distributing it to the motors. It takes five hours to fully charge the battery from completely empty to full. It is charged using either a standard 120 volt outlet (found in most homes), or with a 240 volt power system. Using the later charging method, it will take only two hours to charge the battery completely. The electric range is around 17 miles, which means that it is not possible to charge the vehicle using the DC Fast Charging method. On the gas side of things, there is a total of 480 miles of driving capacity, by way of the 13.2 gallon fuel tank. The fuel mileage is a combined total of 35 mpg for both city and highway usage. Using the completely electric mode, you can drive the car at speeds up to 65 miles per hour. The odd thing about this hybrid is that it has faster acceleration than the purely electric Crosstrek model. Subaru reports a full second difference in the 0-60 ratings.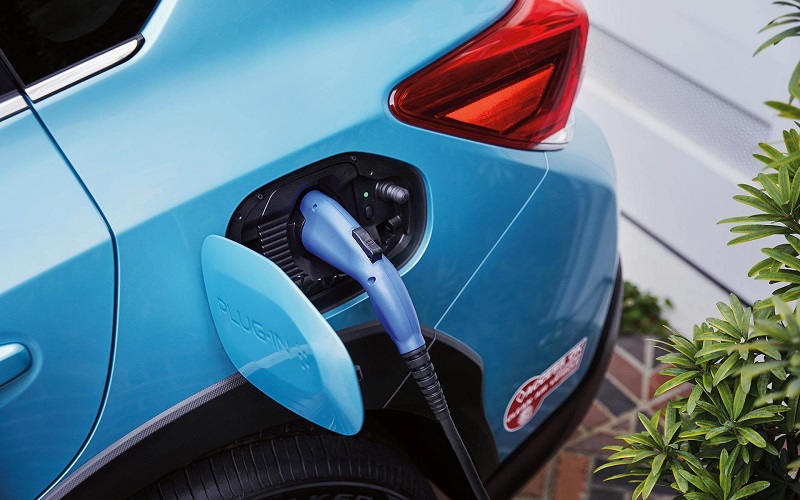 Powertrain - Subaru Crosstrek Hybrid specs in Southfield MI
This hybrid-electric vehicle comes with a 2.0 liter, 4 cylinder engine that is horizontally opposed and works together with the car's electric motors. This non-turbo engine (meaning it is naturally aspirated) works through direct injection of gasoline. In total, the hybrid pushes out a total of 148 horsepower. The gas engine is responsible for 137 horsepower and 134 pound-feet of torque. All Crosstrek Hybrid vehicles run with a continuously variable automatic transmission (known as CVT). They also feature the Subaru Symmetrical All-Wheel Drive (AWD) as a standard feature.
Safety Features - 2019 Subaru Crosstrek Hybrid dealer
One of the best safety features on this new Crosstrek Hyrbid is the body made from highly strong and durable steel that should protect all passengers in even the most disastrous of situations. The available EyeSight Driver Assist Technology has shown top-notch safety output, through a proven record of preventing rear-end collisions by up to 85 percent. It monitors traffic to both optimize your cruise control and warn you when other drivers are near you or you begin swerving outside of your lane. This safety package found on both the Premium and Limited trims also comes with Lane Keep Assist, which brings you back into your lane should you begin swerving. However, the best feature on this incredibly safe family SUV is the Pre-Collision Braking system that gives you automatic brakes at their optimum strength should you find yourself on the heels of an emergency.
Specials
At Glassman, we always have specials available to the community. If you are interested in the 2019 Subaru Crosstrek Hybrid in Southfield, please contact our dealership. Our friendly staff members will answer any questions that you may have regarding the vehicle. When you visit our dealership, our staff members will allow you to test drive the Crosstrek Hybrid around the city!
With features like those listed above, you are sure to feel justified in your purchase of this amazing Crosstrek Hybrid SUV. Our friendly and knowledgeable staff at the Southfield Subaru dealership Glassman Subaru has will assist you in every step along the way should you decide to purchase this vehicle. Come test drive the truck at our location in Southfield Michigan and you'll see why we think this is the car of your dreams.