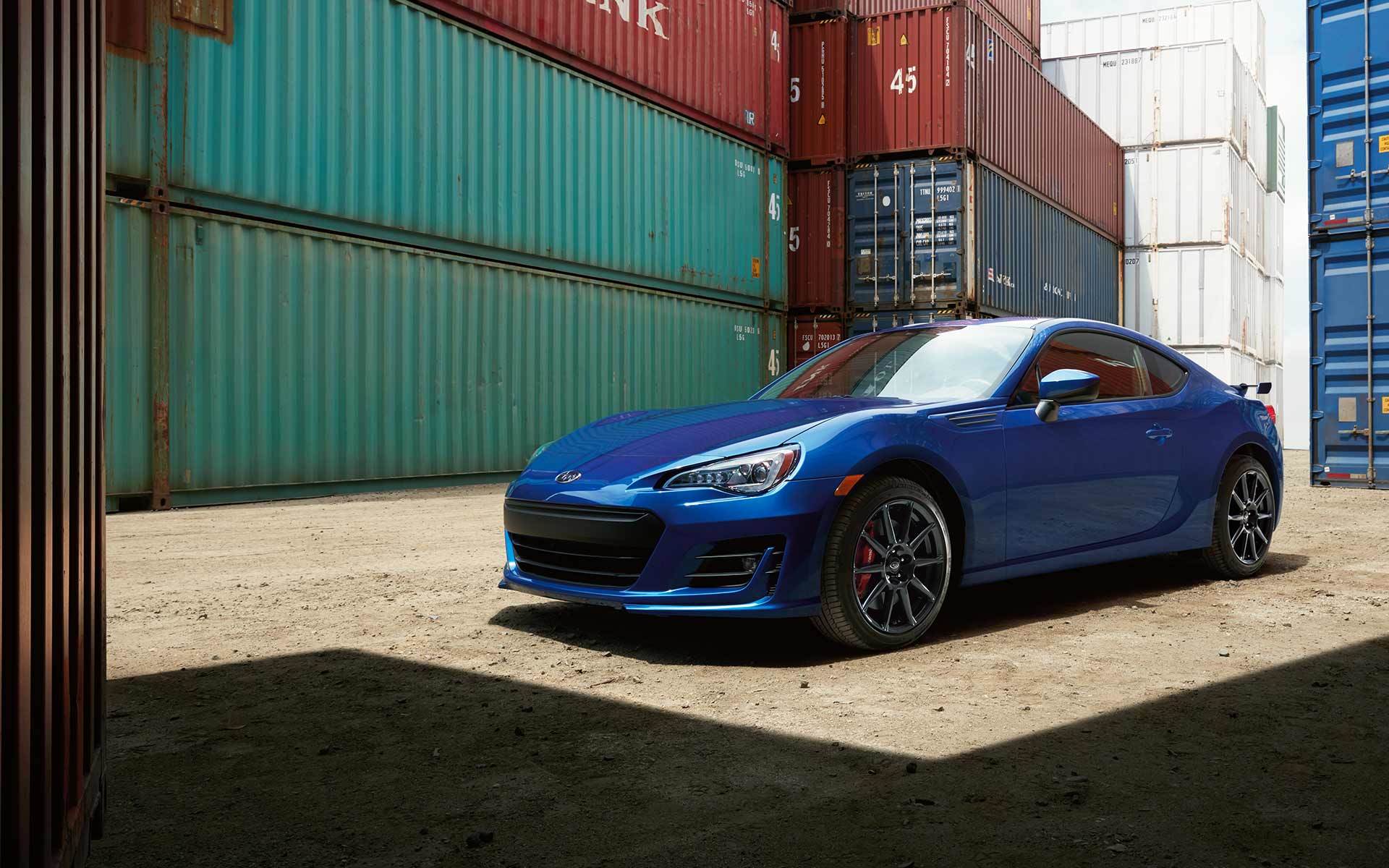 A Brief Review of the 2018 Subaru BRZ tS
The new 2018 Subaru BRZ tS is what all BRZ enthusiasts have been waiting for! The tS stands for "tuned by STI" and Subaru has even gone on record to say this car will be "fun to drive" and a "pure handling delight". You can purchase a 2018 Subaru BRZ ts near Detroit MI in early 2018. The 2018 Subaru BRZ tS will get a large wing on the rear deck lid, 18-inch STI wheels, and other performance upgrades to make this the ultimate handling sports car. The car will be equipped with Alcantara, red accents, and STI badging that will make the car look as good as it handles. Since it is a Subaru, and it is closing in on 2018, you can expect the best safety features available on the market today. If you are looking for a 2018 Subaru BRZ tS near Detroit MI, check out Glassman Subaru who is serving Southfield Ferndale Detroit Michigan.
Let's quickly review the features.
The Interior
The interior will be similar to the 2017 models, but with some awesome upgrades. Alcantara seats with red contrast stitching are standard on the tS model. The red contrast stitching will continue on the steering wheel, doors, dash panels, knee pads, gear shifter, and the boots that cover the shifter and emergency brake. The tS logo is embroidered on the back of the seat, which have red leather bolsters as well. The seatbelts will come standard in red for the front driver and passenger. A unique feature is the frameless rear-view mirror that comes equipped on all tS models.
The Exterior
For this being such a specialized car, we are still going to get color options! There will be three exterior colors available in blue, black, or white with several tS logos and a red accent around the front grille. The front grille accent color is called Cherry Blossom which has significant roots in Japanese culture, commemorating life. The 2018 Subaru BRZ tS will come with a carbon fiber rear wing that is manually adjustable and the lightweight 18-inch wheels (a first for the BRZ) will be dressed in 215/40 Michelin Pilot Sport 4 tires. Brembo brakes will sit behind each wheel for ultimate stopping power.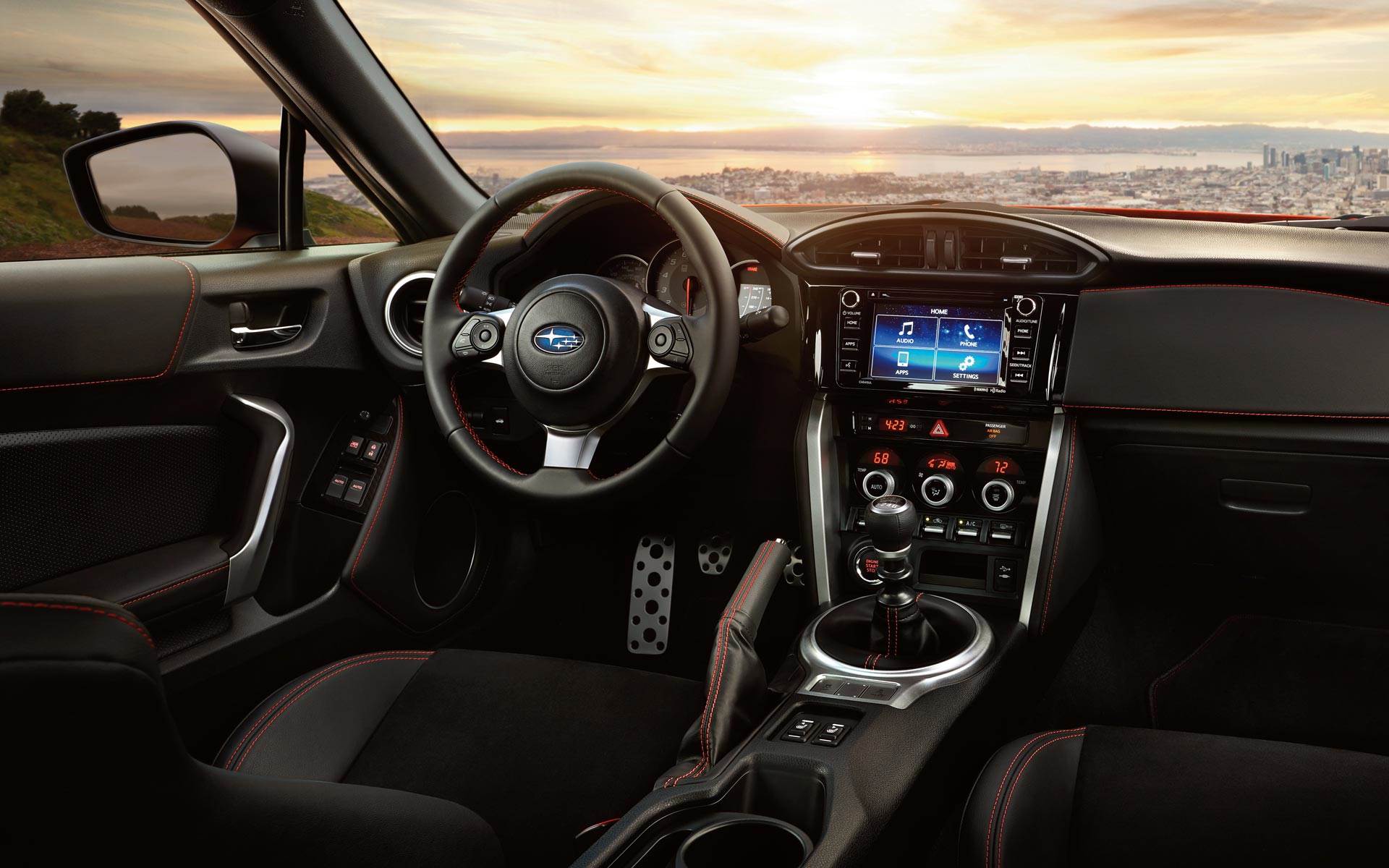 The Mechanics
A review of the mechanics show that it is fitted with many upgrades to improve the handling. This car is already leading the way in lightweight, rear-wheel drive cars with an ultra-low center of gravity. Subaru has fitted STI-tuned front and rear SACHS dampers and coil springs. To further improve handling, flexible V-braces have been placed in the engine compartment. Steering responsiveness has been significantly improved through the use of draw stiffeners that have been added to the chassis and subframe.
The Powertrain
Engine specifications have yet to released, however, it is expected those numbers will be available later this year. What we do know now is that this car will be fitted with the more powerful 2.0 Liter DOHC engine that was released for the 2017 models. The engine is rated at 205-hp and 156 lb-ft torque when equipped with the 6-speed manual transmission. If the tS is to be fitted with the 6-speed automatic transmission, the power output would be 200-hp and 151 lb-ft of torque, and that is still enough to put a smile on your face while punching the pedal through turns.
Safety
Safety features will include front airbags with dual-stage deployment technology for the driver and the passenger. The two front seats will also get side airbags and curtain airbags as well. Stability control, ABS, and the equipped Brembo brakes will help to make sure that you and your passengers are safe if an unexpected quick stop is necessary. The tS will be equipped with daytime running lights, which will help other drivers see you in foggy or hazy conditions. The Tire Pressure Monitoring System will inform you of when your tires are low so that you can avoid blowouts while driving.
If you are looking for a 2018 Subaru BRZ tS near Detroit MI, then call or stop by Glassman Subaru to check out their stock of the new tS models in early 2018. We have been serving Southfield Ferndale Detroit Michigan areas. The one thing to take away from this review is that this car will be a complete joy to drive. The superior handling and braking, combined with the ultra-low center of gravity and perfect amount of power, any driving enthusiast will have a blast in this car! The BRZ tS weighs in under 3,000 pounds and is equipped with rear-wheel drive, making cornering an experience…not a task. It is rumored that the tS model will not be limited edition, meaning anyone who wants to purchase one will be able to do so! Make sure contact Glassman Subaru serving Southfield Ferndale Detroit Michigan areas.